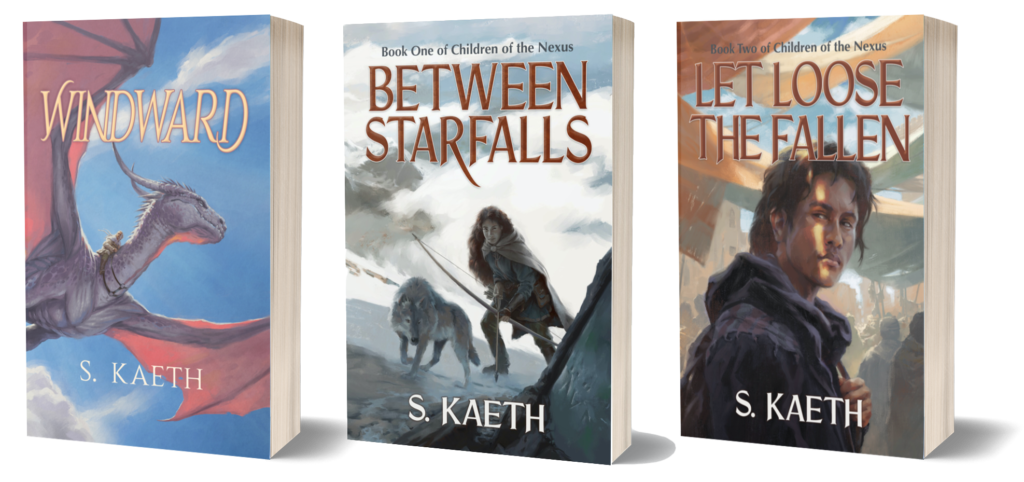 Powerful, flawed characters. Organic magic. Immersive worlds.
Welcome to the works of S. Kaeth.
Windward
When dragons fight, mountains weep.
Dragonbonded Palon and her partner, the dragon Windward, are renowned for their flying skill among the dragons and dragonbondeds who make up their family. Palon's days are filled with everything she loves, especially riding the wind. Even being tasked with teaching their way of life to Tebah, a newly bonded teenager, can't bring her down too much.
But when treasures from the dragons' hordes are found in Palon's collection, her idyllic life comes crashing down. Framed, she battles to find the truth, to prove her innocence, while her every move is cast as further evidence against her. As if that wasn't enough, her teenage charge's increasingly dangerous behavior puts them both at risk. Tebah's suspicion, homesickness, and defiance would be frustrating enough even if Palon wasn't in the spotlight, with a rival smearing her name at every turn. Dragon tempers shorten, and challenges and disputes shake the ground.
Windward and Palon must find a way to clear her name while also keeping a teenager who hates her and everything about dragon life safe, before their community turns completely against them or vigilante justice succeeds.
Between Starfalls
Book One of Children of the Nexus
Never leave the path.
It's sacred law, punishable by exile.
When her son goes missing in the perilous mountains, Kaemada defies the law to search for him. She enlists the help of her hero brother, a priestess berserker, and a fire-wielding friend.
But the law exists for a reason.
When the search party is captured by the mythical Kamalti, they learn that Kaemada's son was sent to an ancient prison city. As they battle for freedom, they discover a horrible truth that will change the future of both races forever.
With their world in upheaval, Kaemada must find a way to peace if she's to save her son—but tensions between the two races are leading to war.

Let Loose the Fallen
Book Two of Children of the Nexus
The priestess searches for her faith.
The fire-wielder wrestles with her past.
The psion dreams of peace.
And the hero is torn between his heart and his duty.
While grief scatters the four protectors to the winds, outside forces write history according to their own whims. The fate of the Rinaryns lies twined with that of the boy, Eian, caught in a tug of war the heroes are unaware of.
But the evidence lies waiting for Taunos and the others to see, if only they can move past their betrayal.