Between Starfalls will be coming out at the end of the month after five years of working on it! I've grown so much in that time, as a writer and as a person, and I have edited this story so much. But I love Between Starfalls, and the heart of the story has remained the same throughout all the years and edits (though my writing has improved!).
This is the beginning of an epic fantasy saga with sci-fi bits and pieces tossed in. Because I love stories that breadcrumb clues from the beginning with payoff in later books, there's plenty of this here, while I worked hard to balance it and avoid it becoming top heavy and too slow at the start. Threads are woven together into a story that I hope is exquisitely re-readable, with powerful, flawed characters I adore spending time with writing.
Kaemada is a dreamer reluctant to adventure yet still hoping to be aid in her people's safety. Her brother Taunos is the classic hero/adventurer, with a flair all his own. Ra'ael's passionate judgements and self-assured attitude would be awesome even if she wasn't a priestess berserker. And then there's my lovely Takiyah, full of wit and wonder and the drive to pick everything apart and understand its workings. Oh yes, and she shoots fire from her hands, so that's neat.
Never leave the path.

It's sacred law, punishable by exile.

When her son goes missing in the perilous mountains, Kaemada defies the law to search for him. She enlists the help of her hero brother, a priestess berserker, and a fire-wielding friend.

But the law exists for a reason.

When the search party is captured by the mythical Kamalti, they learn that Kaemada's son was sent to an ancient prison city. As they battle for freedom, they discover a horrible truth that will change the future of both races forever.

With their world in upheaval, Kaemada must find a way to peace if she's to save her son—but tensions between the two races are leading to war.

Once again, Dave Brasgalla has delivered a classic, gorgeous fantasy cover, and given Kaemada a face! The design centering on the mountains, with Kaemada on the hunt, and the vaguely forbidding shadows, and of course, dear, dear Tannevar the wolf. If you look carefully, there's even Kamalti script showing on the rocks! I can't say enough wonderful things about Dave or his art, so I'm going to stop now and just let you see it.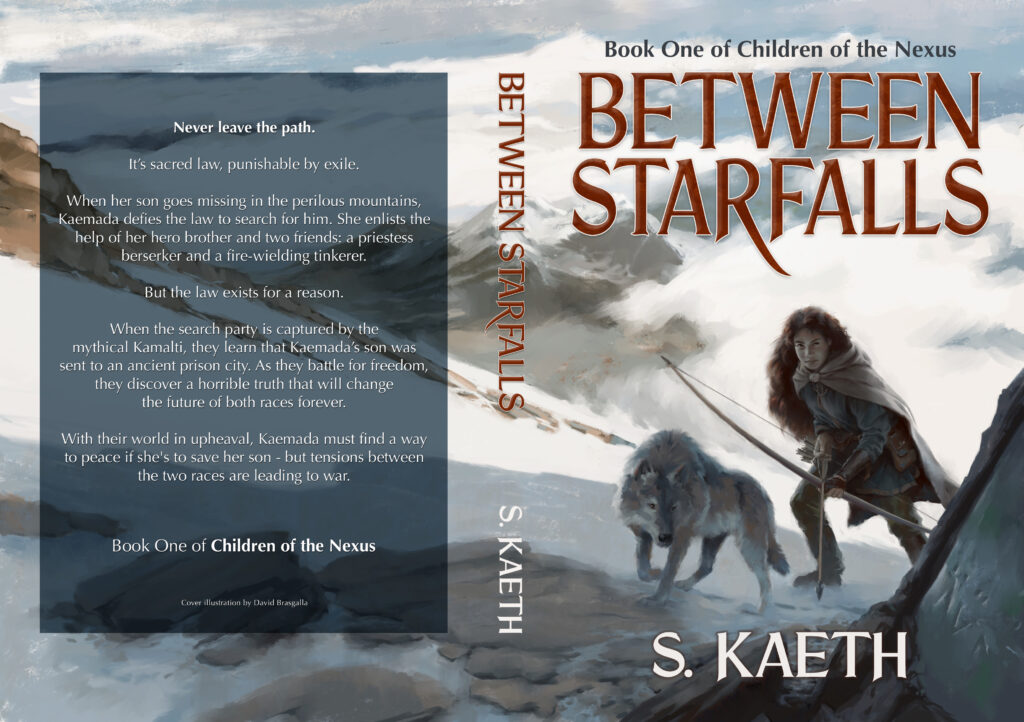 Look at that! Isn't it gorgeous?
Between Starfalls is the first book of the Children of the Nexus series, and will be released on March 27th!
Check it out on Goodreads!
Need it now? Sign up for an ARC!