I am so excited to share with you all the second book in the Children of the Nexus series, Let Loose the Fallen! I'm almost done applying the last edits and then just need to go over it one more time for quality control.
In this book, more of the world gets thrown in and it becomes firmly sword-and-planet science fantasy as the characters learn more about what's been going on in the shadows and put together pieces of the past to form epic stakes. All four main characters have amazing character arcs here that I (though of course biased) simply adore.
Here, let me show you the blurb:
The priestess searches for her faith.

The fire-wielder wrestles with her past.

The psion dreams of peace.

And the hero is torn between his heart and his duty.
While grief scatters the four protectors to the winds, outside forces write history according to their own whims. The fate of the Rinaryns lies twined with that of the boy, Eian, caught in a tug of war the heroes are unaware of.
But the evidence lies waiting for Taunos and the others to see, if only they can move past their betrayal.
Dave Brasgalla is truly amazing to work with. We went back and forth this time getting some background people in the cover to look a little more uniquely fantasy and he did an absolutely phenomenal job. He took a look at the trends in the last year and went bold with the color, really leaning into the surrounding setting while still making Taunos, the main of the four for this book, the focus. And he's three for three, showing me an image that I knew immediately was how Taunos looks. Capturing his essence and giving him a face.
Check out this cover!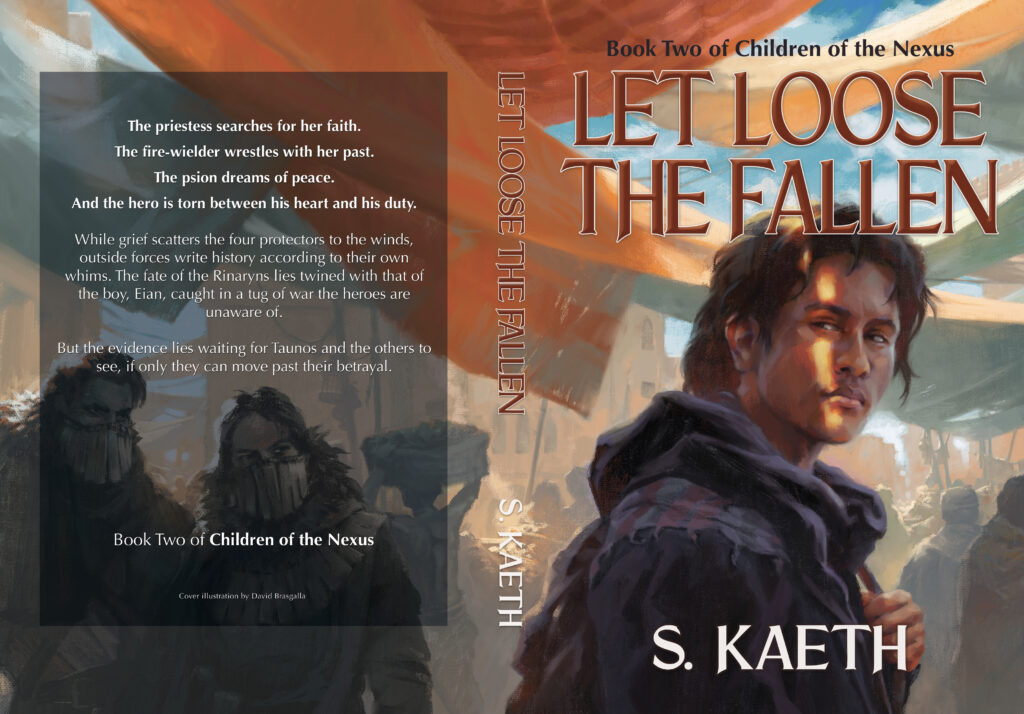 Here's Taunos, looking a little worse for wear after Book One's adventures, a little rugged, a little tired. And surrounding him, all sorts of people from all sorts of nations, some of them looking at him with wariness, most just going about their business.
It's perfect!
Let Loose the Fallen is the second book of the Children of the Nexus series, and will be released on January 22nd!
Check it out on Goodreads!
Remember, Book One of the series, Between Starfalls, is free in KU.
Check out Let Loose the Fallen on Amazon!