These emails are going to look a little different, but the content is still all me!
I switched mailing list services, but I still plan to offer you reading ideas, updates, exclusive content, and more on a monthly-or-so basis.
Writing Updates

Palon's prequel novella is nearly done with final edits and will be released (for free) probably by the time I send out another newsletter. If you're wanting more Palon and Windward–or want to introduce a friend to their world–this is the novella for you!
Book Three's critiques are coming back from critique partners and I am really excited to make the changes to make the story even stronger. I feel really good about this book and I hope you all enjoy it. It's one of those time periods, though, where there's not a lot to say for updates.

In the meantime, I'm looking forward to continuing re-drafting Book Four. The direction of the book is changing, given the changes in Book Three, but it looks like it'll be jam-packed like Book Three is!
Other News

There are some other changes you'll see if you look at my website or at online retailers: Between Starfalls ebooks are now available "wide" at all your favorite online stores, including Apple Books and Kobo. It's also available direct from my site, as is Windward.

You can find links below to all available stores along with previews of both books now, too, which I'm really excited about. This'll help people try out my writing style and see if they're interested in continuing either of these books.

Additionally, Windward and Between Starfalls will soon be available in paperback form widely as well, including from stores such as Barnes & Noble. You can already get signed paperbacks directly from me, but wider distribution (of course) makes them available to more readers.

My books are in three different promos for the month of October, along with a huge selection of other amazing epic fantasy. All of these promos end October 31, so if you're looking for new reads, don't miss out!

The Epic Sci-fi and Fantasy promo includes Between Starfalls, Let Loose the Fallen, and over 100 other sci-fi and fantasy books.

The October Flights of Epic Fantasy is all about epic second-world (non-Earth) setting and non-human protagonists. Windward and Between Starfalls are in this one, along with 20 other incredible stories.

Worlds of Fantasy is all epic books with epic plots. Nothing primarily romance focused, though some romance might be present. Windward and Between Starfalls appear alongside nearly 60 other books.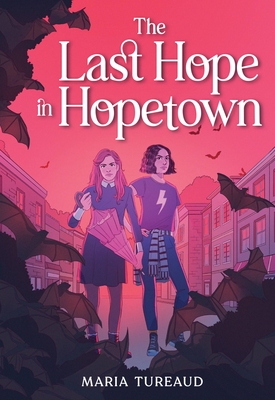 Speaking of Spooky Season….
The Last Hope in Hopetown is out today!
My kids and I had the pleasure to beta-read this amazing Middle-grade book, and I'm ecstatic that today is release day! This is a powerful book of friendship and bravery, with a little spook and a lot of heart.

A debut novel about one girl's dilemma over the decision to save her vampire parents or do what's right for the greater good.

Twelve-year-old human Sophie Dawes lives a good life in Hopetown. There, vampires and humans live in harmony and Sophie and her adoptive vampire moms are living (or unliving) proof. There are a lot of rules that vampires must follow to keep the humans they live around feeling safe, but if regular visits from child protective services and abiding by a nightly curfew keeps their family together, Sophie will do anything to stay with her loving vampire parents. But then, normal, law-abiding vampires begin to go rogue.

After Sophie's own mother— the sweetest person she knows— goes rogue, Sophie decides it's up to her to find a cure. But taking matters into her own hands might be way more than she bargained for if it means braving a secret council of vampires, executing epic heists, and facing the true bad guys head on. With her best friend by her side, Sophie will fight for hope, freedom and a family bonded by a love that's thicker than blood.
Subscriber Freebie!
Galod notes (a behind the scenes message to his home)
Lenatis,
You were inquiring, in your last missive, as to how I'm getting along. I assure you, I'm quite fine. You won't want to send a rescue party anyway–as I've warned you multiple times now, our tech does not work on this world. The only tech I have still working is that inside of me, so I hope my observations are "useful" enough to make my sacrifice worth it.
Note: Is this overdoing it? I must be careful not to oversell the dangers or they may recall me, while at the same time highlighting the dangers and inconveniences enough to keep the other academics away. No other division will have an interest here–unless I err greatly.
My status update has been delayed merely due to a seasonal cold. Since I am only able to send these updates twice yearly, I expected a week or two delay would not be an issue. Alas, I was mistaken. I will be sure not to make the same error in the future.

Note: If I don't get fired for this, it'll be a miracle. Hopefully the mutual dislike between us will be enough for me to be kept here, out of the way, where he can say my "suffering" is all necessary and not at all something he enjoys inflcting. If, on some whim or some sense of what I'm doing, he promotes me out of this position, I'll need to think up more curses and banes to place on him. Or, better yet, another back-up plan to be able to remain here.
You'd asked about healing options in this world after my last missive, in which I'd mentioned I'd smashed my knee. Due to the low technology levels, I am confined to this island, so I can't speak to the availability of medicine elsewhere on this world. Here, there are no hospitals, no doctors, no medics. There are, however, what the people here call "healers", though in truth they are really biowielders.
This is another issue with this world, of course, as if losing our tech wasn't deterrent enough. But I digress.
When the native population gets injured, they use a wide variety of natural remedies either as salves or poultices or ingested. They have an enormous range of knowledge as far as specific proportions, preparations, and how much to use, of course. It would take a lifetime to approach their level of competency.
If the injury is extreme, the community uses the skills of their biowielders, who can heal a great many injuries and illnesses so long as not too much time has passed. Casualties still happen, of course, for life here is difficult, but the biowielders do save a great many lives. It's no wonder the people greatly respect them. 
Note: Finish this missive and delete all notes–after a cup of tea with Zeroun and Maeren. Maeren promised it would help my cough, after all. It'd be rude not to take them up on their offer, especially as it's been a while since we've just been able to sit, and there won't be another opportunity for at least a month.

Be sure to send this, with appropriate groveling as required, once the kaetal has gone for their Feast of Starfalls.
Have you already read my books?

Reviews help other readers find books they'll love!
Find handy review links for each of my books below: